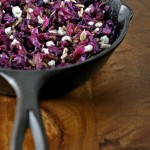 It is hard to eat salads in winter.  Here is a lovely warm 'salad' using cabbage. The fresh garlic will also help boost your immune system and help reduce those colds and flus.  Cabbage is a great winter food that is good for the liver and is thought to play a role in cancer prevention. Red cabbage also has lots of anthocyanin polyphenols – which basically means – antioxidants!
Ingredients
1/2 cup sunflower seeds
1 teaspoon brown sugar (optional)
sea salt
2 tablespoons extra-virgin olive oil
1 red onion, diced
3 medium cloves garlic, minced
500g head of red cabbage cut into thin ribbons
1 teaspoon fresh rosemary, chopped finely
1 1/2 tablespoons balsamic vinegar
60g feta cheese, crumbled
freshly grated Parmesan cheese, to garnish
Roast the sunflower seeds in a pan over medium heat until golden brown (no oil is needed for this). Sprinkle on the sugar (if using), and a couple of pinches of salt.  Stir until the sugar melts and coats the seeds.  Transfer the seeds immediately to a plate.  Set aside.
Heat the olive oil in a large pan and saute the red onion for a couple of minutes.  Stir in the garlic and the cabbage.  Stir and cook for just a minute or so, or until the cabbage softens up just a touch.  Then stir in the rosemary and the vinegar.  The cabbage will continue to cook even after you remove it from the heat.  Try not to overcook it to the point where it collapses entirely.
Fold in half of the feta cheese, most of the sunflower seeds, then taste.  Season with salt if needed. Serve garnished with the remaining feta, sunflower seeds and Parmesan cheese.
Serve as an accompaniment to fish, chicken or meat.
Serves 4
(Adapted from The Complete Tassajara Cookbook by Edward Espe Brown.)