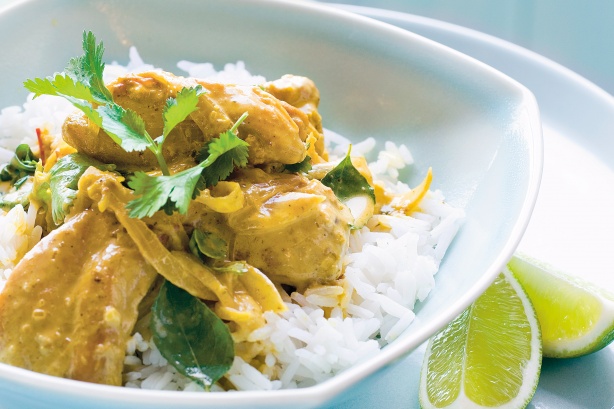 This lovely recipe is easy and smells divine when you are cooking it! Try to use organic chicken or at least a good quality free range chicken like Lilydale.
1 onion, chopped
2 cloves garlic
3 teaspoons chopped fresh ginger
1 teaspoon dried chilli flakes or fresh small red chillies (or to taste)
1 tablespoon crunchy organic peanut butter
1 tablespoon soy sauce
1kg chicken breast or thigh fillets, sliced
1 teaspoon palm sugar (optional)
2 tablespoons lemon juice
½ teaspoon salt
200ml coconut milk
Olive oil for cooking
Heat the olive oil gently in a large frying pan. Cook the chicken in batches until brown. Remove from the pan and set aside.
Using a food processor or a stick blender, process till smooth the onion, garlic, ginger, chilli, organic peanut butter and soy sauce.
Add this onion mixture to the pan and cook for a couple of minutes, stirring constantly. Add the palm sugar (if using), lemon juice, salt and coconut milk. Bring to the boil, return the chicken to the pan, then lower the heat and simmer until the chicken is cooked.
Serve with lots of pak choy, bok choy or other Asian greens. Sprinkle with chopped coriander.