He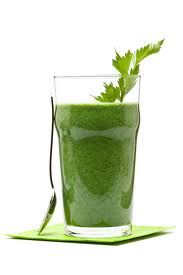 re is a lovely alkalinising juice that is loaded with goodness. The pineapple, which is now in season, has anti-inflammatory bromelains. The celery and kale are cleansing. And the ginger has a good circulatory stimulant punch!
• 1 1/2 cups fresh pineapple
• 4 stalks of celery
• 2 cups of kale
• 1 small piece of ginger
Blend together and enjoy for a Spring cleanse!